Cable drag chains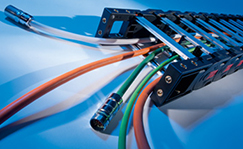 Our system offers an all-around solution for several areas of application: cable drag chains, guide channels, cables, strain relief plates and assembly. Our chains have been able to prove their quality and durability under the most extreme continuous loads and environmental conditions.
Cable drag chains, also known as energy chain or cable carriers, are designed to protect and guide moving cables on industrial machinery. The cable drag chain protects wires by relieving the pressure from industrial use and avoids any wear down. Due to their protection, they increase cable life and therefore reduce system downtime and costs.
Murrplastik only supplies the highest quality cable drag chains to provide the ultimate protection and long life to your cables. As cable drag chain manufacturers, we offer a multitude of open cable drag chains and closed cable drag chains. Our range is extensive with various internal height and width measurements (mm), a range of bending radius (mm) and various chain bracket options, shelving systems and strain relief options.
Cable Drag Chain Manufacturers
As cable drag chain manufacturers, our range includes:
Easy line – 10mm inside height
Multiline – 14mm to 60mm inside height
Partially Closed / Moduleline – 25mm to 30mm inside height
Powerline – 32mm to 52mm inside height
Powerline 2nd Gen – 32mm to 52mm inside height
Heavy Line – 62mm to 72mm inside height
Heavy Line 2nd Gen – 62mm to 104mm inside height
Chainbuilder 2.0
Another tool to help you choose the right cable drag chain for your application is our new Chainbuilder 2.0. This system allows you to select the most suitable product for your application. It not only allows you to configure the ideal cable drag chain for your system, but it also allows you to select the right corresponding mounting components.
Some of the features and benefits of Chainbuilder 2.0 include:
Quickly select the most appropriate cable drag chain for your application.
User-friendly configuration of mounting components, including separators, shelves, chain end brackets and strain relief.
Automatic generation of a detailed parts list for the cable drag chain.
Automatic generation of the 3D-CAD model using a direct interface with Cadenas.
Saving and loading your configurations.
Intuitive user interface / user friendliness.
Contact Murrplastik Today
At Murrplastik, we have a cable drag chain or cable carrier for your application, whether you require adaptability, flexibility or a compact design. Our expert team at Murrplastik can help you to select the correct cable drag chain for your application. For more information, or to discuss your application requirements in more detail, call us today on 0161 728 3133 to speak to one of our knowledgeable technical experts.