Conduit & Fitting Systems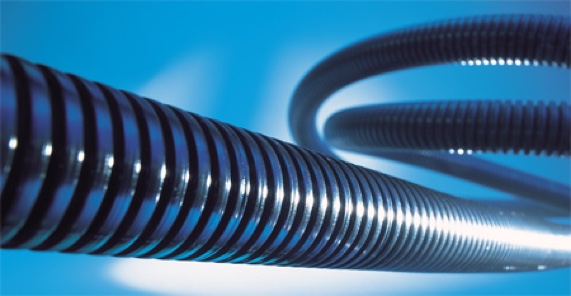 Conduit Systems for Cable Management
Murrplastik speciality conduit systems and fitting systems are made to protect cables, wires and conduits from damage in demanding industries, such as robotics. We supply conduit systems for electrical installations to protect from a multitude of external influences, designed for use in a variety of applications. Our cable protection conduits, fitting systems and accessories are all designed to fit to each other for fast and hassle-free installation. These conduits are used for bundling single wires or protecting cables. They come in an array of materials and shapes for use in a variety of sectors. This includes cable protection conduits for retrofitting, repairing or assembling prefabricated cables. Within our range, we have the Murrflex cable protection conduit closed, available in a range of materials and shapes for use in the most diverse applications and industries. Or our Murrflex two-part cable protection conduit can be quickly and easily installed for retrofitting, repairing or assembling prefabricated cables.
Cable Protection Conduits
Murrplastik's conduit connections are for use across a range of applications. Our selection comes in various classes and materials to suit your system specifically. They allow for a safe and quick installation of conduit systems for cable management. Our comprehensive selection includes: IP68 protection class m-top conduit fittings; IP65 m-tec conduit fittings; IP54/65 m-fix conduit fittings; 90° bulkhead fitting conduit connections; m-jumbo conduit connections for large cable protection; and special fittings for custom conduits. Our cable protection conduit holders come as stackable or individual holders and are used as a conduit holder system for fitting cable protection conduits. Within our extensive range of cable protection conduit holders, Murrplastik can offer conduit holders in a variety of durable materials, including modified polyamide, modified polycarbonate and modified polyamide 6. All of which are halogen, phosphor and cadmium-free and offer quick and easy connection.
Conduit Distributors & Cable Fitting
Murrplastik protectors are used to stop abrasion and impact damage, whilst our distributors allow orderly laying and branching of cables. Our conduit couplings are for the extension or repair of conduit systems for cable management. Available in a range of modified polymer materials, all of our protectors, conduit couplings and conduit distributors offer easy assembly, as well as peerless cable management and protection credentials. Murrplastik offers a range of cable fittings to suit a wide array of applications. We have cable fittings with multi-inserts available for added versatility. They are available in plastic and metal, with metric, Pg and NPT threads. Some are suitable for EMC applications and explosive areas specifically. All of our patented Murrplastik cable fittings feature specially modified polyamide and NBR seals, with some models also including a nickel-plated brass exterior. All of our cable fittings are easy to assemble and offer a high protection class. For more information on any of our conduit and fitting systems, or any other of our products, please contact Murrplastik today on 0161 728 3133.