Cable Drag Chains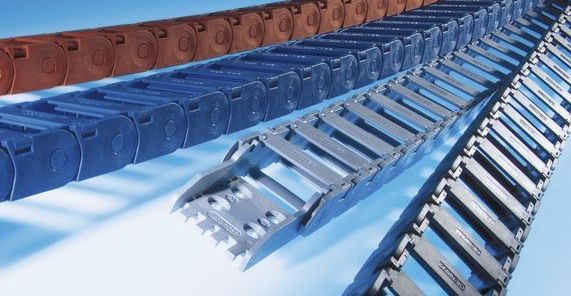 Also known as energy chain or cable carriers, Murrplastik's glass reinforced plastic cable drag chains are used wherever cables and conduits of different sizes and types need to be guided flexibly and linearly. Our system offers you a complete system solution for many fields of operations, such as factory automation, special purpose vehicles, harbours and crane applications.
We also have specialist drag chains for cleanroom, ATEX, outdoor and wet environments. Our range is extensive with various internal height and width measurements (mm), a range of bending radius (mm) and various chain bracket options, shelving systems and strain relief options.
Chainbuilder 2.0
Another tool to help you choose the right cable drag chain for your application is our new Chainbuilder 2.0. This system allows you to select the most suitable product for your application. It not only allows you to configure the ideal cable drag chain for your system, but it also allows you to select the right corresponding mounting components.