Thermal Printed Labels
Thermal printed labels are the ideal choice for narrow and thick, continuous-feed materials, such as flat hoses/conduit, belts and very small labels. At Murrplastik, our labelling department uses our universal thermal transfer printing system, which is perfect for creating heat shrinking labels.
Thermal label sizes
We have a large size range available for polyester, woven nylon and heat shrink thermal label options. Synthetic label materials are often more durable than standard matt / semi-gloss labels and are therefore ideal for a range of different applications.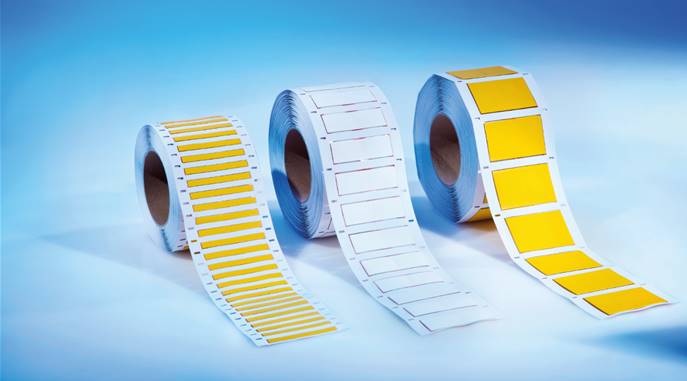 Polyester is commonly used to manufacture direct thermal labels because they are resistant to heat, water, oil and chemicals. The characteristics of polyester ensure that our labels are both high quality and long lasting, providing the ideal fit and forget solution. While our specialised etching ink is quick drying and durable, for fast but long-lasting polyester labelling.
Typical applications for polyester labelling include:
Asset and serial number labels.
Cosmetics.
Appliances.
Electrical equipment and instruments.
Instruction tags.
Logistics labelling.
Polyethylene labels are suitable for applications that require resistance to water, oil and chemicals. Our PE composite label plates are a perfect alternative to PC labels for terminal block labelling, single wire, button labelling and cable labelling. Polyethylene labels also feature durable qualities, including moisture and tear resistance.
Heat shrink labels
At Murrplastik, we have a continuous-feed of Polyolefine heat-shrink conduit. This material is type ST-ECO, is flat and has excellent properties for thermal transfer. It is particularly suitable for applications in the fields of cabinet construction, shipbuilding and labelling of wiring harnesses. Heat shrink labels offer excellent printing results and are highly flame retardant in accordance with UL224/CSA.
Technical Advice for thermal printed labels
Our in-house production department allows us to provide the right labels for your application. Order your murrplastik labels today using our convenient order form. For information and technical advice regarding our thermal printed labels, laser marked labels or engraved labels, contact our team today on 0161 728 3133.