Cable Entry & Cable Retaining Systems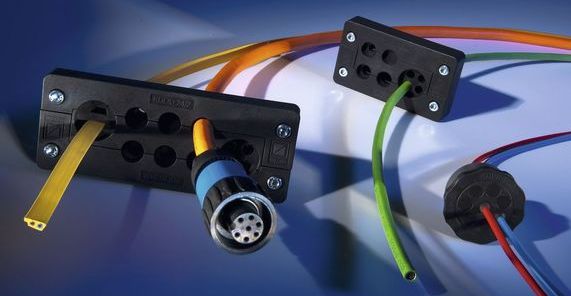 For years Murrplastik has manufactured cable entry systems, cable entry panel systems, strain relief plates and cable holding systems.
Cable entry systems and cable retaining systems from Murrplastik are designed to provide application advantages by making the process of inserting insert cables and electrical conduits through divider walls, junction boxes and control cabinets as easy as possible.
As cable entry system manufacturers, we can advise on the best product for your application.
Cable entry plates for pre-assembled cables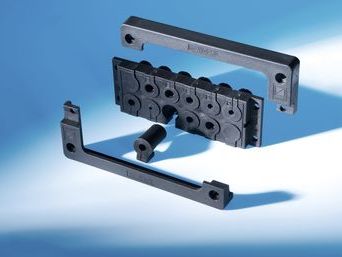 Our split system, cable entry plates for pre-assembled cables make it much easier to route pre-assembled cables and electrical conduits into enclosures, divider walls, junction boxes, control cabinets. Larger plugs can also be introduced into enclosures without difficulty. Various systems are available. All systems are designed to work with 16 or 24-pole connectors for the standard cut-out size for Harting and Wieland.
Cable entry plates for cables without plugs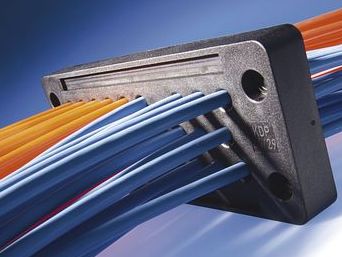 Murrplastik also manufactures a range of cable entry plates and fastening systems for cables without plugs or connectors. This range is also ideal for electrical conduit and pneumatic hoses. Cables can be installed in seconds using this system. Giving enormous savings potential, both during panel installation and insertion and feed-through of the cable. Versions are available in plastic, aluminium or stainless steel.
Murrplastik full product range
The full product range also includes:
Cable Entry plates for Railway Technology
EMC Solutions
Strain relief/Cable Fixing plates Accessories – Adapter plates, blanking plates, catch hooks and much more.
Tools for electrical installation.
Cable fittings & accessories