Etching Ink
At Murrplastik Labelling, we print onto a wide selection of materials to develop cable tags, cable markers and cable or wire identification labels. We print to your numbers, letters or symbols to your specification using top quality etching ink. We offer two different approaches to marking our polycarbonate plastic labels and cable markers. These are inkjet printing and plotter technology. Both inkjet printing and the plotting process etch a specialist ink into the polycarbonate plastic label or tag.
Inkjet Printed Labels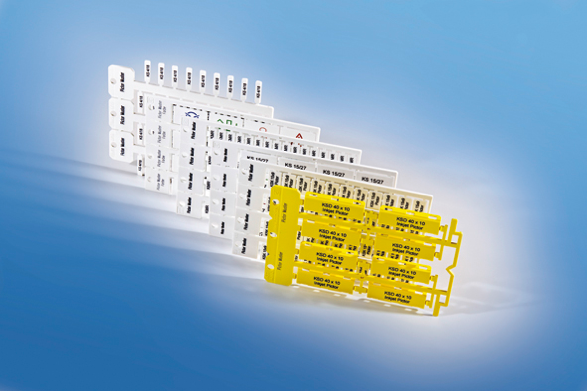 Here at Murrplastik, we offer photorealistic quality, high printing speed and robust inscription with our inkjet printing labels. We can produce quick drying and long-lasting labels and plates made from polycarbonate plastic of the types ELO, ELW and ELG.
Using our large capacity industrial inkjet printer and newly developed etching ink, we produce tough labels at high speed. Labels and plates are UV, chemical and abrasion resistant. Our inkjet colour labelling service is ideal for logos, quality images and special lettering.
Key features:
Razor-sharp and photorealistic quality with 720 dpi
Colour printing
Printing of different fonts supported
Special lettering, e.g type plates
Logos (e.g. bmp, wmf, jpg, png etc.)
Large polycarbonate label range
Plotter Technology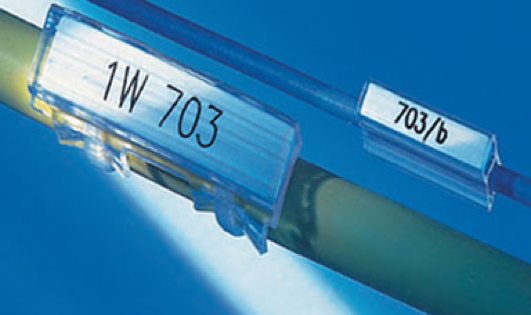 Our plotter technology is perfect for rapid and high-quality marking of all electric, pneumatic or mechanical components:
Key features:
Single wire and conduit labelling
Cable labelling
Corrugated conduit and media hoses labels
Terminal block labelling
Component labelling
Control gear labelling
Labelling of push button and signal lamps
System Labelling
Our newly developed self-etching ink is ideal for permanent and resistant inscription of text, logos and image (wmf format). We provide top-quality typeface from the first to the last label.
Murrplastik Labelling also offers 4A laser engraved labels. These custom laser marked labels are ideal for industrial type plates or as cable designation labels, mounted with cable ties and installed on a plastic holder.
Our custom laser marked labels have been specially designed for demanding environments, such as:
Chemical and petrochemical industry
Mining industry
Ship building industry
Wind energy plants
Food industry
Why we use polycarbonate plastic
Polycarbonate labels offer excellent resistance to water and smudging. They are the ideal choice when durability, strength and excellent printability are vital. They have an all-temperature adhesive with high initial tack on low-surface energy plastics, providing resilience outdoors for up to six months.
Contact Murrplastik today
We combine a highly skilled in-house production team with cutting edge printing systems and materials, to provide the best labels for your application. If you require further information, or technical advice regarding any of our products and services, including our etching ink, inkjet printing, plotter technology and thermal printed labels, please contact us today on 0161 728 3133.